Thermal Analysis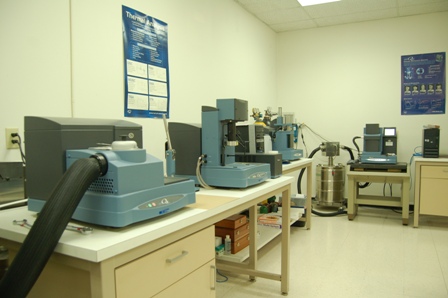 Ash Content
Crystallization Point
Cure Factor (IPC-TM-650 2.4.25D)
Cure Temperature
Curing Kinetics
Decomposition Temperature (Td) (ASTM D3850, IPC-TM-650 2.4.24.6)
Deflection Under Flexural Load
Degree of Cure
Dropping Point
Eutectic Temperature
Gel Time
Glass Transition Temperature (Tg) (ASTM D3418; ASTM E1356; ASTM D7426; ASTM E1545; ASTM E1824; ASTM E1640; ASTM D7028; IPC-TM-650 2.4.24, 2.4.24.3, 2.4.25D)
Heat Capacity
Heat Distortion
Heat of Fusion
Lead-free (Pb-free) testing
Material Characterization
Melting Point
Outgassing / Outgas Testing (ASTM E595, ASTM E 595, NASA SP-R-0022A, ECSS-Q-ST-70-02, IPC-TM-650 2.6.4)
Phase Transition Temperature
Reaction Kinetics
Rubber Analysis
Slip Point of Fats
Softening Point
Solidification Point
Specific Heat
Time to Delamination (IPC-TM-650 2.4.24.1)
Total Mass Loss (TML) and Collected Volatile Condensable Materials (CVCM) from Outgassing in a Vacuum Environment
Vicat Softening Temperature (ASTM D1525)
CTE (Coefficient of Thermal Expansion) by TMA (ASTM E831, IPC-TM-650 2.4.24)
CTE of Surface Layer by Strain Gauge Method
DMA (Dynamic Mechanical Analysis) (ASTM D4065, IPC-TM-650 2.4.24.2, 2.4.24.4, ASTM E1640; ASTM D7028, ASTM D5024, ASTM D4440)
DSC (Differential Scanning Calorimetry) (ASTM D3418, ASTM E1356; ASTM D7426)
TGA (Thermogravimetric Analysis) (ASTM D3850)
TMA (Thermomechanical Analysis) (ASTM E831, ASTM E1545; ASTM E1845)
A view of multiple testing stations for use in conducting Thermal Analysis on various materials. This is one of several areas assigned to various thermal tests.
Differential Scanning Calorimetry (DSC) is used to determine specific heat, thermal effect, purity, polymorphism, glass transistion, oxidative stability, chemical reactions, reaction kinetics, melting behavior, and crystallization.
Thermogravimetric Analysis (TGA) techniques are used to determine filler content, and to determine the temperature and course of decomposition as they relate to weight loss at elevated temperatures.
Thermomechanical Analysis (TMA) determines the softening bahavior of polymers, the coefficient of linear expansion (CTE), glass transition temperature (Tg), shrinkage behavior, and changes in dimension caused by chemical reactions.
Dynamic Mechanical Analysis (DMA) can determine elastic and loss moduli as a function of temperature, frequency or time, or both. A plot of the elastic modulus and loss modulus of material versus temperature provides a graphical representation of elasticity and damping as a function of temperature or frequency. This procedure can also be used to locate transition temperatures of plastics.