Environmental
A partial list of our "in-house", up-to-date, environmental test equipment includes the following:
Five Single-stage Thermal Shock Chambers
One Double-stage Thermal Shock Chamber
One Three-stage Thermal Shock Chamber
Five Humidity Temperature Cycling Chambers
Air-to-Air Thermal Shock Chamber (PTL-TSC-1)
Liquid-to-Liquid Thermal Shock Chamber
One Impulse Shock Test System
Three Vibration Test Systems, including Sine, Random, and Sine with Random
More than twenty Laboratory Ovens
Our multi-million dollar inventory of Environmental, Measuring, and Test equipment allows us to offer our customers expedited testing services and rapid turn-around to meet their urgent requirements in the following areas:
Conductive Anodic Filament (CAF) Resistance
Corrosion
Electrochemical Migration Resistance
Flammability (UL 94)
Fungus Resistance (ASTM G21, IPC-TM-650 2.6.1, Mil-STD-810 Method 508)
Hydrolytic Stability
Lead-free (Pb-free) Testing
Moisture and Insulation Resistance
Outgassing / Outgas Testing (ASTM E595, ASTM E 595, NASA SP-R-0022A, ECSS-Q-ST-70-02, IPC-TM-650 2.6.4)
Oxygen Index (ASTM D2863)
Salt Fog, Salt Spray (ASTM B117, ATM A967 Practice C, MIL-STD-810 Method 509)
Surface Insulation Resistance (SIR)
Steam Aging
Temperature/Humidity Cycling
Thermal Stress
Thermal Shock and Temperature Cycling
Total Mass Loss (TML) and Collected Volatile Condensable Materials (CVCM) from Outgassing in a Vacuum Environment
Vibration and Shock


Pacific Testing Laboratories (PTL) is the premier worldwide leader in ASTM E595 outgas testing (including NASA SP-R-0022A, ECSS-Q-ST-70-02C, and IPC-TM-650 2.6.4). The ASTM E595 outgas test (Standard Test Method for Total Mass Loss and Collected Volatile Condensable Materials from Outgassing in a Vacuum Environment) is a screening technique to determine the percent volatile contact of materials (organic, polymeric, inorganic) when exposed to a vacuum environment (less than 5 x 10-5 torr) at elevated temperature (125°C). The following parameters are measured: total mass loss (TML), collected volatile condensable materials (CVCM), and the optional amount of water vapor regained (WVR). Historically, a TML of 1.00% and CVCM of 0.10% have been used as screening levels for rejection of spacecraft materials.
An additional (separate) qualitative test may be requested and performed on the CVCM residue by Fourier Transform Infrared Spectroscopy (FTIR). PTL utilizes an FTIR microscope for organic characterization (qualitative characterization of the major organic compound present) of the residue on the collector plates.
- As a NASA and JPL-approved laboratory for testing of printed circuit board materials, PTL has also received continual laboratory suitability approval (only laboratory for ASTM E595 testing) from the Defense Logistics Agency (DLA) Land and Maritime (Department of Defense, United States of America). Our technical staff are members of ASTM's Committee E21 (Space Simulation and Applications of Space Technology), including Subcommittee E21.05 on Contamination.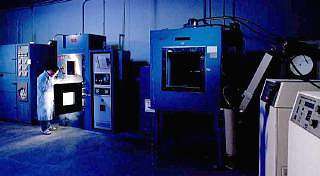 A view of our Thermal Shock area featuring three-stage, two-stage, and single-stage thermal shock chambers. All chambers are equipped with LN2, provided from a single high capacity storage tank. Also pictured are precision temperature forcing systems for small sample testing.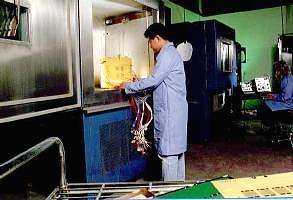 A variety of large capacity precision temperature/humidity chambers provide us with the capability of processing a large number of samples simultaneously. All chambers feature multi-stage microprocessor programming and continuous chart recording of temperature, humidity, number of cycles, duration of cycles, etc.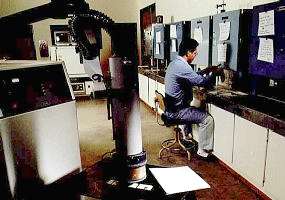 Several bench top ovens being used in a long-term heat aging test of plastic materials. At the time this photo was taken, the pictured ovens had been in continuous operation for two years at the required test temperatures.