About Us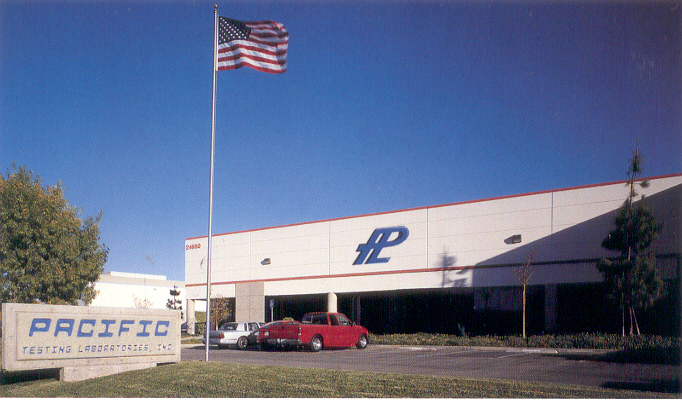 Facilities
Pacific Testing Laboratories is located in Valencia, California, approximately 45 miles north of the Los Angeles International Airport. Our facility is a 16,000 square foot laboratory, dedicated solely to testing services. Within our building are several environmentally controlled testing laboratories. Each lab is, by the nature of the equipment therein, generally used for the particular classes of testing.
Quality Assurance
As a part of our quality assurance program, which is compliant with ISO/IEC 17025:2017 (including performing tests in support of IPC-QL-653 - Certification of Facilities that Inspect/Test Printed Boards, Components and Materials), all technical personnel attend regular on-site training classes on new/updated testing procedures and specification amendments/revisions. Written notifications are issued to each employee, whether involved in testing or not, of all revisions and amendments to Specifications, Standards, or Test Methods, as received. These notifications are issued by the Specification Inventory Review Department. Calibration and inspection procedures are in strict accordance with ANSI/NCSL Z540-1-1994, and subsequent issues.
About Our Staff
Pacific Testing Laboratories takes great pride in our people and the experience they bring to the company. The relationship we have with our customers goes far beyond pass/fail results. Pacific personnel are trained to be inquisitive, not just report data. We are aware of anomalies that occur, investigate reasons for failure, make design suggestions for product improvement, etc. Our customers know they can count on us for technical advice, quick turnaround, and confidential test results at all times.
Comprehensive Testing Services
Pacific Testing Laboratories offers a very comprehensive range of testing services to the Printed Circuit Board (PCB), Aerospace, Space (ASTM E595), Automotive, Plastics, Composites, Rubber, Metals, Wood Flooring, Electronic Device, and Medical Device industries. Our expertise extends to many fields, including: Electrical, Optical, Mechanical, Environmental, Metallurgical, Chemical, Thermal, Outgas (ASTM E595), Physical, Analytical, Forensic, and Failure Analysis. While we are unable for the sake of brevity to fully describe the hundreds of testing procedures we currently perform, we ask that you review our "Capabilities Lists" on the following pages, which outline some of the various testing disciplines offered.
Specialized Testing Apparatus
On several occasions we have been called upon to engineer and construct specialized test equipment and fixturing to accommodate customer specification requirements. We have over the years become very adept in this area. We view each potential specialized testing requirement as an opportunity to acquire new knowledge, a challenge to be met. With our highly trained and competent staff of engineers and scientists, we've been able to greatly expand our testing capabilities and welcome the opportunity to evaluate any specialized testing needs you may have.
On-Time Delivery
Our excellent "on-time" delivery record is a function of proper evaluation of the job requirements at the time of quotation, on site calibration, company owned test equipment and apparatus, superbly qualified personnel in all departments, and concerned and interested management. We know that the job at hand is important to you, and that makes it important to us. This is why we constantly monitor the progress of your job while it is in our facility and procedures are in place to assure a minimum of dead time.
Documentation
While Testing is our business, reports are our product!
At Pacific Testing Laboratories, we take great pride in the quality and accuracy of our documentation. We believe that the detailed, professionally bound Test Reports we provide our customers are unequaled in our industry. We further believe that the quality of the report is an accurate representation of the quality of the testing service we provide. While we wish that each and every customer would have an opportunity to visit our facility, we realize that for many of you this is not possible. In these cases, we believe our reports will represent ourselves fairly to you.