Sample Preparation
Pacific Testing Laboratories has, what it believes to be, the most extensively equipped machine shop in any commercial laboratory. Its function is dedicated to fabricating test specimens and fixturing. Principal equipment includes diamond coated tooling, surface grinders, milling machines, lathes, a 30 ton precision press, laboratory presses, and a 4-axis CNC milling machine.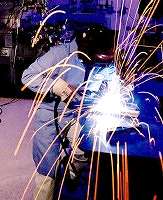 A partial view of our internal machine shop showing a lathe, milling machine, and polishing machine. Additional equipment, including a DoAll digitally-controlled band saw, a table saw, and other items, are also in use but not pictured here. Our machinist is shown welding together another custom test fixture.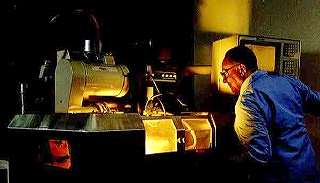 One of our test engineers monitors the preparation of a sample of a customer's materials on our 4-axis CNC milling machine.