Failure Analysis
A partial list of our state of the art test equipment, applicable to these testing disciplines, will include the following:
Two Scanning Electron Microscopes with EDS (SEM/EDS)
Three Differential Scanning Calorimeters (DSC)
Three Thermogravimetric Analyzers (TGA)
Three Thermo Mechanical Analyzers (TMA)
One Dynamic Mechanical Analyzer (DMA)
Two Real-Time Fluoroscopic X-ray Systems, including a Microfocus System
One Fourier Transform Infrared Microscope (FTIR) (capable of identifying a single particle of an unknown material)
Two Ion Chromatographs (IC) (capable of identifying ionic impurities in ppm)
This equipment, combined with the more than 100 years of industry related experience of our staff, enables us to provide our customers the highest level of accuracy, coupled with reliable results, for problem resolution. From a simple qualitative analysis to a complex study program, we stand ready to respond to your requirements. Typical testing programs will include the following:
Mechanical Shock
Metallograph
Microelectronic Failure Analysis
Optical Microscopy
PCB Failure Analysis
Shock
Solderability (Meniscus)
Solderability (Weight)
Solderability (Edge Dip, Rotary Dip, Float)
Steam Aging
Vibration (Sine, Random, and Sine with Random)
X-Ray Fluorescence (XRF)
X-ray Radiographic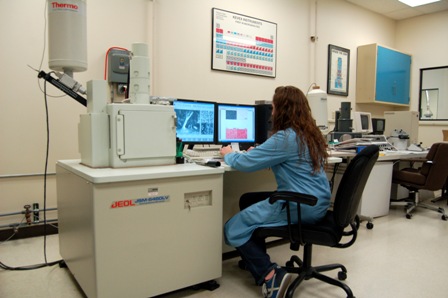 Scanning Electron Microscopes
For our customers who require high resolution topographical imaging, we offer the finest instrumentation available: Scanning Electron Microscopes (SEM), including a large specimen chamber and low vacuum capability for the analysis of uncoated non-conductive samples, equipped with Energy Dispersive X-ray Spectroscopy (EDS) for elemental analysis, mapping, line scan, etc. The instruments are designed to provide high resolution images up to 300,000X.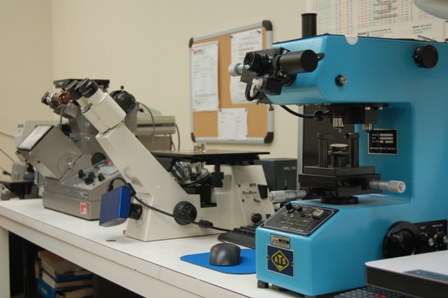 Metallography
A partial view of our metallographic stations, showing micro-hardness testers and metallographic microscopes. These instruments, along with our cross-sectioning and polishing equipment, make the Optical Metallography facilities at Pacific Testing among the most extensive in the industry. In addition, these facilites are under the supervision of our Chief Metallurgist, with a Ph.D. in Metallurgy.