Mechanical
We routinely perform mechanical testing on materials such as adhesives, ceramics, composites, metals, plastics, printed circuit board materials, rubbers, and thermoplastics. A wide range of mechanical tests can be performed at temperature extremes from -300 degrees F to 1000 degrees F. A partial list of our testing capabilities includes the following:
Printed Circuit Board Material
Adhesion
Abrasion Resistance
Bond Strength
Bow & Twist
Compression
Flexural Fatigue & Ductility
Flexural Strength
Folding Endurance
Lead-free (Pb-free) Testing
Low Temperature Flexibility
Machineability
Modulus of Elasticity
Peel Srength
Poisson's Ratio
Porosity
Shear
Stress/Strain Instrumentation & Analysis
Tensile Strength & Elongation
Ceramic, Composite, Metal, Plastic, and Rubber
Bearing
Compression
Flexure
Fracture Toughness
Shear
Tension
Impact (Izod & Charpy)
Poisson's Ratio
Modulus of Elasticity
Hardness Testing
Durometer / Shore Hardness (ASTM D2240)
Knoop Microhardness (ASTM E384)
Rockwell Hardness (ASTM E18)
Adhesive Testing
Climbing Drum Peel
Double Lap Shear
Lap Shear (ASTM D1002)
Peel (ASTM D1876, ASTM D3167)
Tensile Strength
Damage Tolerance Testing
Impact
Compression After Impact
Double Cantilever Beam (G1c)
Edge Delamination (Gc)
Open Hole Tension and Compression
Other Testing Capabilities Include
Creep
Fatigue
Shock
Torque
Vibration (sine and random)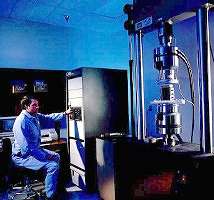 The 110,000 pound capacity of universal testing machines offer the versatility of both static and dynamic loading of large structures or individual coupons, such as in the compression after impact test being conducted. All test parameters are programmable to insure repeatability of test conditions.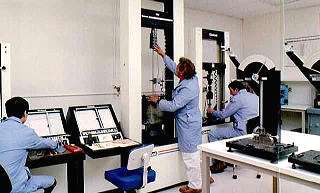 The variety of Universal Testing Machines pictured here provides us the capability of testing many materials; from thin copper foils to concrete and high-strength composites. A selection of load cells for these machines allows a range of two pounds full scale to 60,000 pounds full scale.
Also pictured are two impact testing machines for impact strength of materials in IZOD or Charpy.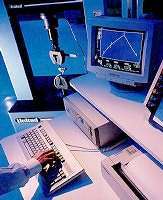 A test engineer conducts a Tensile test while the computer monitors the values of load, displacement, and strain to produce a stress/strain curve.