Electrical
Our diverse Electrical Laboratory capabilities include measurements from DC to 10 GHz. The equipment assigned to the laboratory is among the most accurate available for the specific measurements of interest. We believe it is the most comprehensive range of testing disciplines of any laboratory in our industry. A general overview of the services we provide includes, but is not limited to, the following:
Arc Resistance (ASTM D495)
Capacitance
Comparative Tracking Index (CTI) (ASTM D3638)
Conductive Anodic Filament (CAF)
Conductivity
Crosstalk
Current Breakdown
Current Carrying Capability (to 300 Amps DC @ 30 Volts)
Delay
Dielectric Constant (Permittivity)/Dissipation Factor (Loss Tangent), 60 Hz to 1 MHz (ASTM D150), 1 GHz, 2.5 GHz, 5 GHz, and 10 GHz
Dielectric Strength (ASTM D149, up to 100 kV AC, rms)
Dielectric Withstanding Voltage (DWV)
Impedance and Time
Delay of Lines by TDR (Single-Ended and Differential)
Interconnection Resistance
Insulation Resistance
Leakage Current
Low Level DC Resistance
Measurements (4 Wire Kelvin Technique)
Power
Q (Resonance)
Surface Insulation Resistance (SIR)
Surface Resistivity (ASTM D257)
Velocity of Propagation
Volume Resistivity (ASTM D257)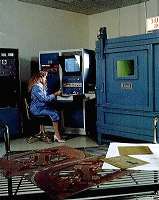 A partial view of one of our Multiple Electrical Test Stations showing a 50KV AC Dielectric Breakdown Tester and our Multilayer Board Inspection System (X-ray) in use.